Veronica longifolia 'Schneeriesin'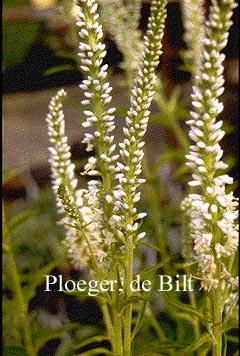 Ereprijs. Just as the blue reuzin a superplant for. The size after 10 years is 80 cm. The flower colour is white. This plant is hardy.The flowering period is June - August.
This plant has in the system Hansen/Mussel used for describing perennials the following code : 6.2.1.8
Explanation of the first digit : General location : BORDER. Plants with good colouring effects or nice shape, for a open, well drained soil.
Explanation of the second digit : Specific demands of the plant : Plants that are used to complete the border.
Explanation of the third digit : Where to put : For a warm, sunny place, tolerates occasional dry spells. Note that they do not tolerate very wet conditions in the winter well.
Explanation of the fourth digit : Other characteristics : Suitable for cut-flowers.
Color : wit
Flowering period : july - august
Size approx. : 80 cm.
Recommended quantity per square meter : 7
Family : Scrophulariaceae
© first picture : Th. Ploeger & Zn
We do not have a picture of this plant. Do you have one and are you willing to give it to us? Please mail it to us at info@esveld.nl