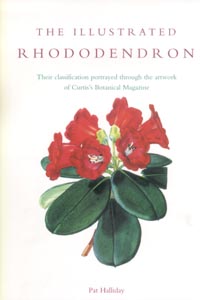 Subtitle : Their classification prtrayed through the artwork of Curtis's Botanical Magazine

ISBN : 0-88192-510-1

Publisher : Timber Press

Number of pages : 268

Many drawings

Year of publication : 2001

Binding : Hardcover

In 1787 Willam Curtis founded the Botanical Magazine, a journal containing hand-colored engravings of plants with accompanying text, which is still published today. In the last 213 years over 11000 illustrations have been puvlished. In this book there are 121 plates representing all of the subgenera, sections and series within the complex rhododendrons. Accompanying the plates is a new text providing an interesting account of the species omto cultivation, its historym distribution, habitat an classification.

Price € : 42.00

This book is in stock

If you would like to order this book, you can do this by using our online bookshop. This book you will find in the category Rhododendron and Azalea in the online bookshop, which you will find here.