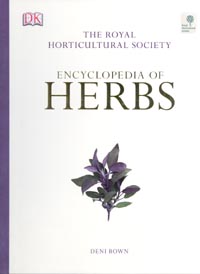 ISBN : 0-7513-0203-1

Publisher : Dorling Kindersley

Number of pages : 448

Number of pictures : 1500

Year of publication : 2008

Binding : Hardcover

The definitive guide to the uses and cultivation of herbs. Covers the practical uses and and fascinating history of herbs from around the globe. Comprehensive A-Z of herbs, with cultivation, propagation and harvesting information. Features all the beneficial properties of herbs, including culinary, medicinal and commercial uses. Special warning symbols alerts you to potentially toxic or harmful herbs.

Price € : 45.00

This book is temporarily out of stock

If you would like to order this book, you can do this by using our online bookshop. This book you will find in the category herbs in the online bookshop, which you will find here.